Recent events
New World Wine Tourism Webinar
Thu, 21 Oct, 2021 10:00 AM — 11:00 AM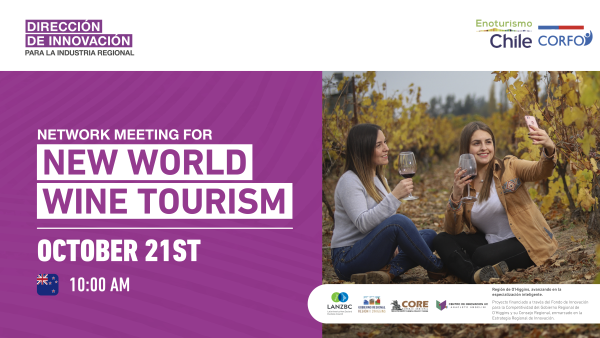 On October 21 at 9am, Centro de Innovación of Universidad Católica de Chile, Enoturismo Chile, Regional Government of O'Higgins in Chile, Corfo in association with LANZBC held a great webinar about Wine Tourism Industry.
We had an amazing panel:
· México: Jorge Ferreira, Vinos Azteca
· Argentina: Diego Martin Stortini, Finca del Nunca Jamas, Mendoza Valley
· Chile: Valeria Gallardo, "rutas y vinos" del Cachapoal Association
· New Zealand: Helen Masters, Ata Rangi Vineyard
We discussed what was happening in the wine tourism industry in their respective countries, how they have dealt with the impact of Covid-19 and managed to recover. This forum also provided us with the opportunity to share good practice, create a dialogue and build a network to allow us to face future challenges in the wine tourism industry.
If you have missed this webinar, you can now watch it here.
Costs:
Members - FREE!
Non-members - FREE!
Register for this Event
Back to Recent events