Upcoming events
Peru: Build a better understanding of the business landscape and the trade opportunities
Tue, 28 Sep, 2021 10:00 AM — 11:00 AM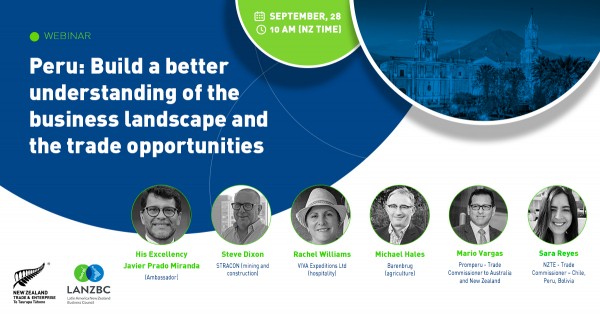 LANZBC and NZTE would like to invite you to take part in this very insightful webinar on why Peru matters:
Find out more about Peru as a country
Meet NZ Businesses that have succeeded in Peru
Understand how NZ Businesses have rebounded from COVID in Peru
Learn what trade opportunities there are
Build a better understanding what Peru's CPTPP ratification means to NZ businesses
Join this webinar co-hosted by the LANZBC and Brendan Mahar, NZTE Market Manager Latin America, who will be joined by guest speakers: His Excellency Javier Prado Miranda, Sara Reyes NZTE Trade Commisioner - Chile, Peru and Bolivia, Mario Vargas Promperu Trade Comissioner Australia and New Zealand, Steve Dixon from STRACON (mining and construction), Rachel Williams from VIVA Expeditions Ltd (hospitality) and Michael Hales from Barenbrug New Zealand Limited (agriculture).
During the webinar you will have the opportunity to learn what it is like to do business in Peru and understand what the commercial and investment perspectives are, now that Peru has ratified CPTPP.
Costs:
Members - FREE!
Non-members - FREE!
Register for this Event
Back to Upcoming events