2019: A year in events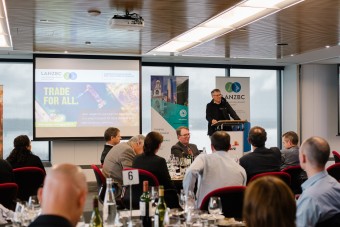 The LANZBC's events programme for 2019 was a full one. Our members enjoyed a varied calendar of activities that included everything, from movie screenings to conferences by top diplomats and a flagship event with New Zealand's Minister of Trade and Export Growth, Hon. David Parker.
The year started in style when LANZBC Members and guests gathered at Auckland's Bridgeway Cinema on February 26 for a fantastic private screening of the multi-award-winning Mexican film Roma, at an event co-hosted and sponsored by the Mexican Embassy.
In March, LANZBC members and guests enjoyed breakfast and networking with a stunning view of Auckland from the offices of PwC, before sitting down to learn about the trade opportunities Colombia offers to New Zealand, with presentations from both Colombia's Ambassador to Australia and New Zealand, Jaime Miranda Bueno, and Trade Commissioner Juan Carlos Jimenez.
June was the busiest month of the year. We saw a fantastic turnout at Fieldays for the LANZBC and NZTE's Latin America networking event. Later in the month, 150 business people, government officials and thought leaders from New Zealand, China, Argentina and Chile came together to discuss making New Zealand a major and natural connection between China and South America at the 'Building the Southern Link' conference. LANZBC members were then treated to another excellent event on 27 June, when Loreto Leyton, the Executive Director of ABAC (APEC Business Advisory Council) 2019, gave an overview of Chile's plans for APEC 2019 and how these goals could create new opportunities for exporters. That same day, former Argentinean Ambassador Eduardo Sadous join members of the LANZBC and the NZIIA for a presentation on the fruitful relationship between Argentina and the various nations of Asia.
Our flagship event for 2019 took place on August 14th, when we were pleased to host a lunch with the Minister of Trade and Export Growth, Hon. David Parker, and a wide range of members and friends at the PwC offices in Auckland. The Minister commented on the strength of the relationship between New Zealand and Latin America, two parts of the world that enjoy a natural affinity based on wide-ranging people-to-people links, trade and business interests, shared cultural similarities -including strong indigenous links-, and vibrant connections in tourism, education and sport.
In November, LANZBC president Simon O'Connor hosted members and friends of the council in Hamilton for a final catch up at the Waikato Social Evening. The lively event was a fitting end to a successful year of activities. We are grateful for the high attendance and the keen interest shown by our members at each of this year's events, and we hope that you will continue to support us in 2020 when we will continue to provide you with opportunities to engage with key industry and government contacts in New Zealand and Latin America.
This entry was posted on 3 Dec 2019
Back