Esmeralda gifted iconic NZ art by LANZBC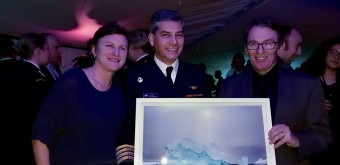 Shane Ball and Rachel Williams of the LANZBC presented an original print by NZ artist Joe Micheal to Captain Claudio Maldonado of the Chilean ship the Esmeralda in Auckland on July 19.
The Esmeralda is a four masted barquentine that since being commissioned in 1951 has functioned as a training ship for Chile.
Also known as the "Dama Blanca" or "White Lady" in Spanish, the Esmeralda left Valparaiso on June 9 with 276 crew on board on a training voyage of 210 days, which will take in visits to Wellington and Auckland, Sydney, Bali, Singapore, Hong Kong, Busan, Tokyo, Honolulu, Papeete and Easter Island before returning to Chile on January 5.
The voyage is intended to promote Chile as the host APEC 2019, with its itinerary including visits to a number of participating economies, reflecting its status as a "floating embassy"for the Chilean government.
This entry was posted on 22 Jul 2019
Back