New Post Study Work Rights a significant opportunity for NZ export educators in Latin America.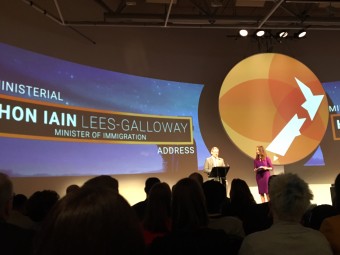 Above: Iain Lees-Galloway announces new post study work rights at New Zealand International Education Conference, August 2018
On August 8 Immigration Minister Iain Lees-Galloway announced changes to Post Study Work Rights for international students studying in New Zealand tertiary institutions.
Among the changes announced are a three-year open work visa for graduates of undergraduate, masters and PhD programmes, and the availability of work visas and subsidised education for their partners and children. These changes have been welcomed by the NZ International Education community, and represent a significant opportunity for those exporting education to Latin America.
Export education in NZ is probably bigger than you think. Last year, education earned $4.4 billion in export earnings, provided more than 33,000 jobs, and moved the industry into 5th place among Kiwi export earners behind tourism, dairy, meat and wood. By comparison, the wine industry generated $1.66 billion, and lies in 10th place.
However, these earnings pale by comparison to those of our competitors. Education-related travel generates more revenue than tourism in Australia, last year bringing in more than $30 billion in export receipts. Canada has seen a 20% increase in earnings in 2016 and 2017. New study destinations such as Malaysia and China are adding further pressures to an already competitive market place.
So how are NZ educators able to compete and attract students in such a busy global market place?
International students from privileged backgrounds continue to be attracted to high prestige education destinations such as the UK. The US also remains attractive to those students focused on making professional connections and enhancing their careers. Among cost-focused students, countries such as Germany and Holland now offer heavily subsidised or even free programmes taught in English. Some students will attend campuses of foreign campuses in their own countries, making significant savings in tuition fees and travel and living expenses.
Work rights are a key factor influencing students to come to NZ, Australia and Canada. While traditional factors such as teaching quality, safety, lifestyle, and student experience remain vitally important, these are now requirements and no longer key in differentiating education destinations.
In the 2018 QS Enrolment Solutions survey of 28, 859 students studying in NZ and Australian tertiary institutions, the number one factor in students choosing their programme is the requirement for their degree to provide a pathway to their chosen career. Among those students, only 21% intend to return home immediately following their programme.
Providing a pathway between high value education and the opportunity to work in their chosen field in their host country is now critical to international graduates. Like all of us, given the substantial investment that education requires, students seek to maximise their options post-study.
The new work rights position NZ well amongst our closest competitors. Australia requires students to have completed a qualification of a minimum of two years. Graduates in Canada are only permitted to stay for the same duration as their programme; If they study a one year programme, they are only able to stay for one year. In NZ, from October 26 this year, all university students will be able to stay for 3 years, regardless of their course duration, and without the current visa requirement of a nominated employer.
Value-focused Latin American students are extremely sensitive to the availability of work rights. Following the introduction of while-study work rights for English language students, the number of Colombian students in NZ went from 208 in 2013 to 716 in 2015. Resulting positive word of mouth led to a doubling of numbers into the university sector by 2017; enrolments in private training establishments increased by 400% over the same period.
The opportunity for partners of masters and PhD students to obtain work rights, and for their children to study free in NZ schools, is also very attractive to Latin American professional families paying substantial fees for quality education in bilingual colleges at home.
New Zealand universities are ranked within the top 3% globally in terms of quality; by comparison to the other major English-speaking destinations the cost of education here is competitive. Add to this the announcement of 3-year post study work rights for all university graduates, and NZ is set to become increasingly attractive to Latin American students.
This entry was posted on 27 Aug 2018
Back