Viva Expeditions & Chimu Adventures launch LANZBC member only discount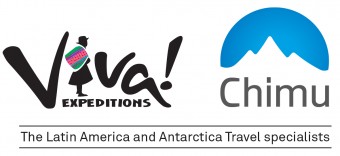 BOOK DIRECT WITH VIVA EXPEDITIONS & CHIMU ADVENTURES AND RECEIVE A 10% DISCOUNT ON ALL LAND & CRUISE ARRANGEMENTS (excludes airfares)
Whether you are travelling for business or for leisure Viva & Chimu can help you. They offer NZ's largest range of Latin America & Antarctica travel options. These include fully flexible, guaranteed itineraries to South America, Central America & Mexico plus cruises to Antarctica.
Viva & Chimu also offer corporate airfares plus incentive group and conference services.
To take advantage of this great offer email Rachel Williams rachel@vivaexpeditions.com or call 09 917 5948.
Terms & Conditions
Bookings must be made direct with Viva Expeditions or Chimu Adventures.
Can be used in conjunction with other promotional offers, however some exclusions do apply.
Applicable for fully paid LANZBC members and their travel companions.
DESTINATIONS
South America – Argentina, Chile, Brazil, Peru, Bolivia, Ecuador, The Galapagos Islands, Colombia, Venezuela, Suriname, Guyana, French Guayana
México & Central America – Guatemala, Costa Rica, Belize, Nicaragua, Panama, Honduras, El Salvador
Cuba
Antarctica
Arctic
PRODUCT
New Zealand largest range of Latin America & Antarctica travel product without a doubt!
TAILORMADE
Viva & Chimu can prepare personalised tailor-made itineraries for individuals, couple or groups to anywhere in Latin America. Their team have all travelled extensively and can offer you first-hand knowledge & expertise.
They can offer anything from 3* - 6*, and prefer to work with unique and charming hotels that enhance people experience which travelling.
Viva & Chimu can offer excursions on a shared basis or on a private basis. Unlike others our shared tours are English speaking only and limited to a max on 20 people (no large coaches).
They have access to a range of transport including plane, train, bus, boat, bike …
Viva & Chimu cater to special interests i.e. hikers, photographers, families, farmers, bird watchers … the list is endless, but every tour is designed to be a perfect fit for the traveller.
Just tell them how long you want to travel for, how you like to travel, when you want to go … and we can plan the rest for you
SMALL GROUP TOURS
Viva & Chimu have 11 group tours in South America, with 54 departures each year. These are our own tours that we operate ourselves.
Viva & Chimu have their own Discovery tours which show clients the highlights of South America & our Overland Expeditions that offer an in-depth look at regions such as Patagonia or Northern Argentina.
All of their group trips are designed for the mature traveller with most people being in their 50's, 60's or early 70's.
Viva & Chimu are also in partnership with the Intrepid Group so offer Intrepid, Peregrine or Geckos group tours for you.
They also cater to private groups such as sports teams, hiking clubs, incentive groups …
SMALL SHIP CRUISING
Antarctica – Viva & Chimu work with all ships travelling to the frozen continent. And they have our own exclusive charter cruises. They offer cruise ex NZ & Australia, and also cruises ex South America. Both traditional cruises and fly-cruises. By having the most extensive range they are able to look across all offering to find the best match for your clients, all at the best price on the market.
Galapagos Islands – Viva & Chimu are contracted with over 70 ships in the Galapagos so can certainly find great options for your clients from Budget to Luxury, 3 days – 15 days. They also offer Island Hopping packages.
Patagonia – Viva & Chimu work with both Cruceros Australis & Skorpios who offer cruising through Patagonia.
Amazon River Cruising – In Brazil, Peru & Ecuador. With a large number of ships of varying sizes and categories.
Panama Canal – Partial or full transits of the canal.
Other – With their partners they also offer Cuba cruising, west coast of South America cruises and more ….
FLIGHTS
Viva & Chimu can book flights
Or they can help you by guiding your team as to which flights will work best for your trip
WHY VIVA & CHIMU ARE DIFFERENT
From owning their own hotels, and being invested in their ground operations to the vast amount of first-hand experience their team possesses you will see they are much more than a middle man, they are New Zealand's leading provider of corporate and leisure travel to Latin America & the Polar regions.
Learn more – visit www.vivaexpeditions.com
This entry was posted on 28 Sep 2018
Back