Work has begun on the LANZBC Young Professionals Network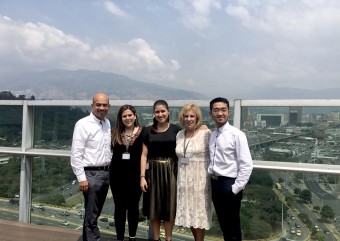 A new business network for young professionals interested in deepening business, language and cultural links with Latin America will be launched in Auckland next year.
The Latin America New Zealand Business Council (LANZBC) and the Latin America Centre for Asia Pacific Excellence (LatAm CAPE) have begun working together to establish the LANZBC Young Professionals Network (YPN), with an expected launch date in March 2020.
Initially based in Auckland, with branches to follow in Wellington in 2020 and Christchurch and Hamilton in 2021, the YPN aims to equip the next generation of New Zealand leaders to engage with Latin America and will provide a peer network for young New Zealanders returning to the country after study and work experiences in the region.
At present, there is no dedicated network available for young professionals interested in furthering their careers in Latin America.
"With the increasing number of students returning from South America on Prime Minister's Scholarships to Latin America and on mobility experiences sponsored by the LatAm CAPE, we saw a clear opportunity to provide these talented young professionals with a means to build their networks, connect with our membership, and take the next steps on their career paths," says LANZBC president Simon O'Connor.
One such returning professional is John Liang (pictured above). While a student at the University of Auckland, John travelled to Colombia in November 2018 on the Prime Minister's Scholarship, working with the Sustainability Department at Bancolombia's headquarters in Medellin.
"Colombia was a truly life-changing experience that not only broadened my cultural horizons but also strengthened my passion for sustainability. I was deeply inspired by the spirit of innovation and commitment towards sustainable practices so evident in the work of Bancolombia and the remarkable transformation of Medellin. Upon return to New Zealand, I wanted to connect with other young professionals who share a similar interest in the Latino culture and strengthening ties between Latin America and the Pacific. I am excited to learn about the launch of the YPN, which will no doubt provide young Kiwi global citizens with a platform to connect, learn from each other and play a bigger role on the world stage."
"We're excited about the formation of the YPN and to be helping the LANZBC create it," says the Director of the LatAm Cape, Dr Matthew O'Meagher. "The network will connect talented young New Zealanders who have direct knowledge of Latin America and great cross-cultural skills with businesses keen to increase their trade with the region."
The Young Professionals Network membership will be open to and targeted toward NZ and Latin American students, graduates and young professionals who are under 35 and share an interest in Latin America business.
More information on the March 2020 launch event and on how to join the organization will be made available on the LANZBC and Latin America CAPE websites. Those who wish to register their interest in the YPN can do so by clicking on the following link:
This entry was posted on 3 Dec 2019
Back