Fri, 1 Dec, 2023
Wed, 13 Dec, 2023 5:00 PM — 7:00 PM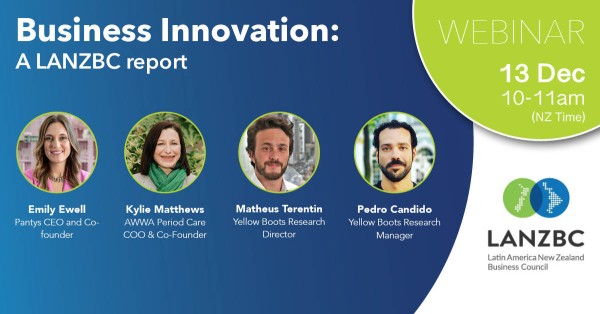 Business Innovation: A LANZBC report

The LANZBC commissioned a Business Innovation Report to showcase Latin America's economic dynamism and encourage NZ exporters to diversify into these thriving markets.
We found success stories across the continent, focusing on sectors that New Zealand businesses can identify and collaborate with.
The nine stories presented in the report highlight pioneering entrepreneurs who contribute to thriving Latin American ecosystems, from agri-tech to gaming to period care.

We will launch our report with a webinar on 13 December 10am (NZT) with a panel discussion with:
Emily S. Ewell - Pantys Co-Founder and CEO

Kylie Matthews - AWWA Period care Co-Founder and COO

Matheus Terentin - yellowboots Research Director

Pedro Henrique Candido - yellowboots Research Manager
Two businesses offering period care in opposite sides of the world. Are the export and operational challenges similar or different when you operate in NZ or Brazil? Join us for a rich discussion to find out about their journeys of taking period care products to the globe from different corners of it.

With thanks to New Zealand Ministry of Foreign Affairs & Trade for their support with this report.



More Information
Wed, 13 Dec, 2023 5:00 PM — 7:00 PM
The Bank Bar & Brasserie (at the library) - 117 Victoria Street, Hamilton Central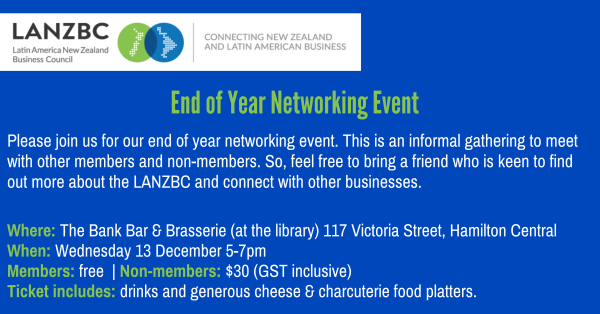 Don't miss our end of Year Networking Event in Hamilton. We will be having wine and nibbles while celebrating the end of 2023 and planning for th eyear ahead. We will welcome you on Wednesday 13th December from 5 to 7pm at the The Banks! This is the perfect opportunity for you to expand your network by meeting the membership and the some of the Board of Directors as well as talk about opportunities/ ideas you would like the LANZBC to include in our 2024 schedule.
More Information
Jump to a Month
FILTER BY