Fri, 1 Oct, 2021
Thu, 21 Oct, 2021 10:00 AM — 11:00 AM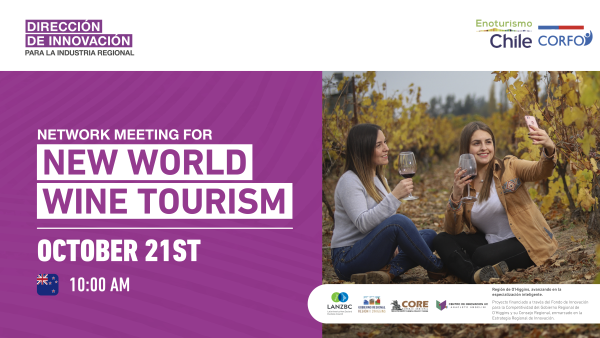 Centro de Innovación of Universidad Católica de Chile, Enoturismo Chile, Regional Government of O'Higgins in Chile, Corfo in association with LANZBC invite you to participate in the online Wine Tourism Meeting on October 21 at 9am (NZ time).
Join our amazing panel:
· México: Jorge Ferreira, Vinos Azteca
· Argentina: Diego Martin Stortini, Finca del Nunca Jamas, Mendoza Valley
· Chile: Valeria Gallardo, "rutas y vinos" del Cachapoal Association
· New Zealand: Helen Masters, Ata Rangi Vineyard
Find out what is happening in the wine tourism industry in their respective countries, how they have dealt with the impact of Covid-19 and managed to recover. This forum will also provide us with the opportunity to share good practice, create a dialogue and build a network to allow us to face future challenges in the wine tourism industry.
More Information
Thu, 28 Oct, 2021 5:15 PM — 6:00 PM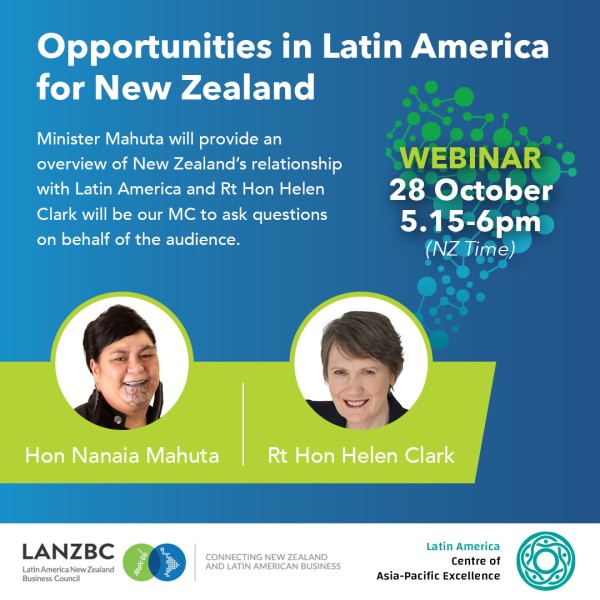 LANZBC in partnership with LatAm CAPE brings you Minister of Foreign Affairs Hon Nanaia Mahuta together with our patron the Rt Hon Helen Clark. Minister Mahuta will address our members and provide an overview of New Zealand's relationship with Latin America. Rt Hon Helen Clark will be our MC and she will ask questions on behalf of the audience. So, please feel free to send your questions to info@lanzbc.co.nz by 15 October.
More Information
Jump to a Month
FILTER BY